2011.04.16
Cosplay Idol 2011 Competition!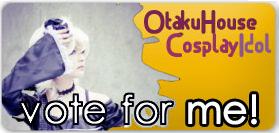 Hyetaya as Kagamine Len
Join Otaku House Cosplay Idol
*My entry link:
http://www.facebook.com/pages/Cosplay/108595849165580#!/photo.php?fbid=10150178192512137&set=a.10150148407792137.303963.151208427136&type=1&theater
Currently has more than 79 votes
following letter is the from
manager of the event on replaying
my entry to the event:
participation in the "Otaku House Cosplay Idol Competition".
We have put up your photo on www.facebook.com/otakuhouse for the qualifying round of voting. The main album features the latest 200 entries, and earlier entries will be shifted to sub-albums. You can vote and view the entire gallery together on our website here : http://www.otakuhouse.com/north-america-online-cosplay-competition/
Do find your photo and tag yourself to authenticate your photo. Kindly note that photos untagged by the contestant will not be qualified for the Finals.
The qualifying round will be held from now to July 2011, and the Finals will commence from September 2011, and the top cosplayers with the most number of 'likes' will be able to enter the finals to have a chance to be our very first North American Cosplay Idol!
By joining our contest, you agree that your photo may be used for any Cosplay Idol related editorials or collaterals.
Get More Votes!
1. "VOTE FOR ME" ICON
Generate a customized "Vote for me" button which you can insert into forums, blogs or deviantart accounts. Go to this link and input your information and competing photo into the required fields. http://www.otakuhouse.com/cosplay-idol/vote-for-me-icon/
2. Rally your friends
Do get your friends to support you in the competition by liking your photo. Please note that your friends will have to first click 'like' on top of our main facebook page (www.facebook.com/otakuhouse) before the 'like' button will appear on your photo. They can then proceed to vote for you.
Order to participating the Vote!
how?
1. First, you have to "like" the Otaku house group page on Facebook
2. Then you go to the entry page and click the "like" button order to
complete the voting for you're dreast friend/idol/participant
How to participate the
event?
1. Chose wisely of you're section for your own country
(Asia, North America, Europe, etc)
2. Email you're best photo to the admin of Otakuhouse group page
3. After you're entry submitted, the admin will send out the
confirmation letter
4. Lastly, you will advertising (this is only optional, you don't have to do it necessary) yourself
to you're closest people to vote for you!